1995, Always Be My Baby
"Always Be My Baby" est le 11ème numéro 1 de Mariah aux Etats-Unis (en seulement 6 ans de carrière). Il marque la première collaboration de la chanteuse avec le producteur de Hip Hop Jermaine Dupri qui deviendra son ami et partenaire privilégier de ses futurs succès.
Le clip, réalisé par la chanteuse elle-même, a été tourné dans un camp de vacances pour enfants défavorisés ("Camp Mariah") géré par la fondation le "Fresh Air Fund", activement soutenue par l'artiste. Sur le remix, Mariah collabore pour la première fois avec la rappeuse Da Brat qui deviendra également son amie.
Always Be My Baby est la chanson de Mariah la plus samplée par d'autres artistes, notamment par Fifth Harmony ou encore Kanye West.
1996, Clip d'Always Be My Baby
LIVES d'Always Be My Baby:

- 1995, Madison Square Garden
- 1996, Daydream Tour at The Tokyo Dome
- 2000, Rainbow Tour in Milan
- 2000, Rainbow Tour in San Jose
- 2003, Charmbracelet tour in Los Angeles
- 2006, The Adventures Of Mimi Tour in Edmonton, Canada
- 2006, Anaheim (The Adventures Of Mimi Tour) > DVD
- 2009, Live at The Pearl (Las Vegas)
- 2009, Stripped in New York
- 2010, The Angels Advocate Tour in Atlantic City
- 2012, Ischgl (Autriche)
- 2012, Rabat (Maroc)
- 2012, NFL Kickoff
- 2013, Good Morning America
- 2013, Live in Australia
- 2014, The Today Show
- 2014, The Elusive Chanteuse Show in Singapore
- 2015, #1's To Infinity Show in Las Vegas
- 2015, Live in Israel
- 2016, The Sweet Sweet Fantasy Tour in Paris
- 2016, #1's To Infinity in Las Vegas
- 2017, All The Hits Tour in Hollywood
- 2018, The Butterfly Returns (Las Vegas)
- 2018, iHeart Festival
- 2018, Live in Osaka (Asian Tour)
- 2019, The Butterfly Returns
- 2019, Caution Tour in Detroit
- 2020, The Butterfly Returns
- 2020, iHeart Living Room Concert For America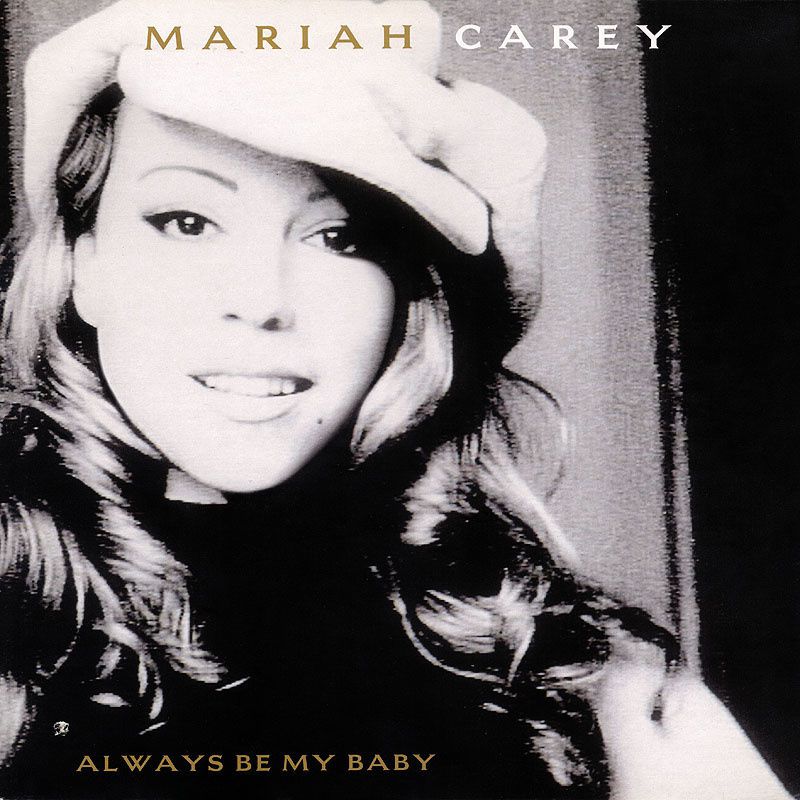 1995, ALWAYS BE MY BABY
Paroles : Mariah Carey
Musique : Jermaine Dupri, Mariah Carey, Manuel Seal
Production et arrangements : Mariah Carey, Jermaine Dupri, Manuel Seal
We were as one babe
Nous ne faisions qu'un
For a moment in time
Un moment dans le temps
And it seemed everlasting
Et ça avait l'air éternel
That you would always be mine
Comme si tu serais toujours à moi
Now you want to be free
Maintenant tu veux être libre
So I'll let you fly
Alors je vais te laisser t'envoler
'Cause I know in my heart, babe
Parce que je sais au fond de mon coeur
Our love will never die
Que notre amour ne mourra jamais
[REFRAIN:]
You'll always be a part of me
Tu feras toujours partie de moi
I'm part of you indefinitely
Je fais indéfiniment partie de toi
Boy, don't you know you can't escape me
Mec, tu ne sais pas que tu ne peux pas m'échapper
Ooh darling, 'cause you'll always be my baby
Oh trésor, car tu seras toujours mon chéri
And we'll linger on
Et nous persisterons
Time can't erase a feeling this strong
Le temps ne peux pas effacer un sentiment si fort
No way you're never gonna shake me
Pas question, tu ne te débarrasseras jamais de moi
Oh darling, 'cause you'll always be my baby
Oh trésor, car tu seras toujours mon chéri
I ain't gonna cry, no
Je ne vais pas pleurer, non
And I won't beg you to stay
Et je ne vais pas te supplier de rester
If you're determined to leave boy
Si tu es déterminé à partir mec
I will not stand in your way
Je ne vais pas me mettre en travers de ton chemin
But inevitably, you'll be back again
Mais inévitablement, tu reviendras
'Cause you know in your heart, babe
Parce que tu sais au fond de ton coeur
Our love will never end
Que notre amour durera toujours
[REFRAIN]
I know that you'll be back, boy
Je sais que tu reviendras, mec
When your days and your nights get a little bit colder
Quand tes jours et tes nuits se feront plus froids
You'll be right back, baby
Tu reviendras tout de suite
Oh baby, believe me
Oh chéri, crois-moi
It's only a matter of time
Ce n'est qu'une question de temps
[REFRAIN]