2009, Obsessed
Premier single de l'album 'Memoirs', 'Obsessed' atteind rapidement la 7ème place des charts US.
Comme pour le titre 'Clown' en 2002, la rumeur dit que les paroles seraient adressées à Eminem, qui lui-même fait souvent référence à Mariah depuis qu'ils se sont rapidement fréquentés en 2001. Mariah ne confirme pas cette rumeur mais apparaît grimée en homme faisant étrangement penser au célèbre rappeur dans un clip plein d'humour. D'autres sources pensent que la chanteuse en profiterez également pour régler ses comptes avec le rappeur et producteur Damizza qu'elle aussi fréquenté.
La phrase 'Why are you so obsessed with me' est issue de 'Mean Girls' (Lolita malgré moi), un des films préférés de Mariah et de ses copines. Dans le clip, la scène du bus fait également référence à ce film.
LIVES de Obsessed:
- 2009, America's Got Talent
- 2009, Live in Las Vegas.
- 2009, Lopez Tonight
- 2009, Stripped in New York
- 2009, The Today Show
- 2010, The Angels Advocate Tour in Atlantic City
- 2010, Concert in Barretos (Brésil).
- 2012, Concert in Ischgl (Autriche)
- 2012, Concert in Rabat (Maroc)
- 2013, Live in Australia (Sydney)
- 2014, The Elusive Chanteuse Show in Sydney
- 2015, Live in Israel.
- 2016, The Sweet Sweet Fantasy Tour in Paris
- 2018, iHeart Festival
- 2019, Curacao Jazz Festival
- 2020, The Butterfly Returns (Las Vegas)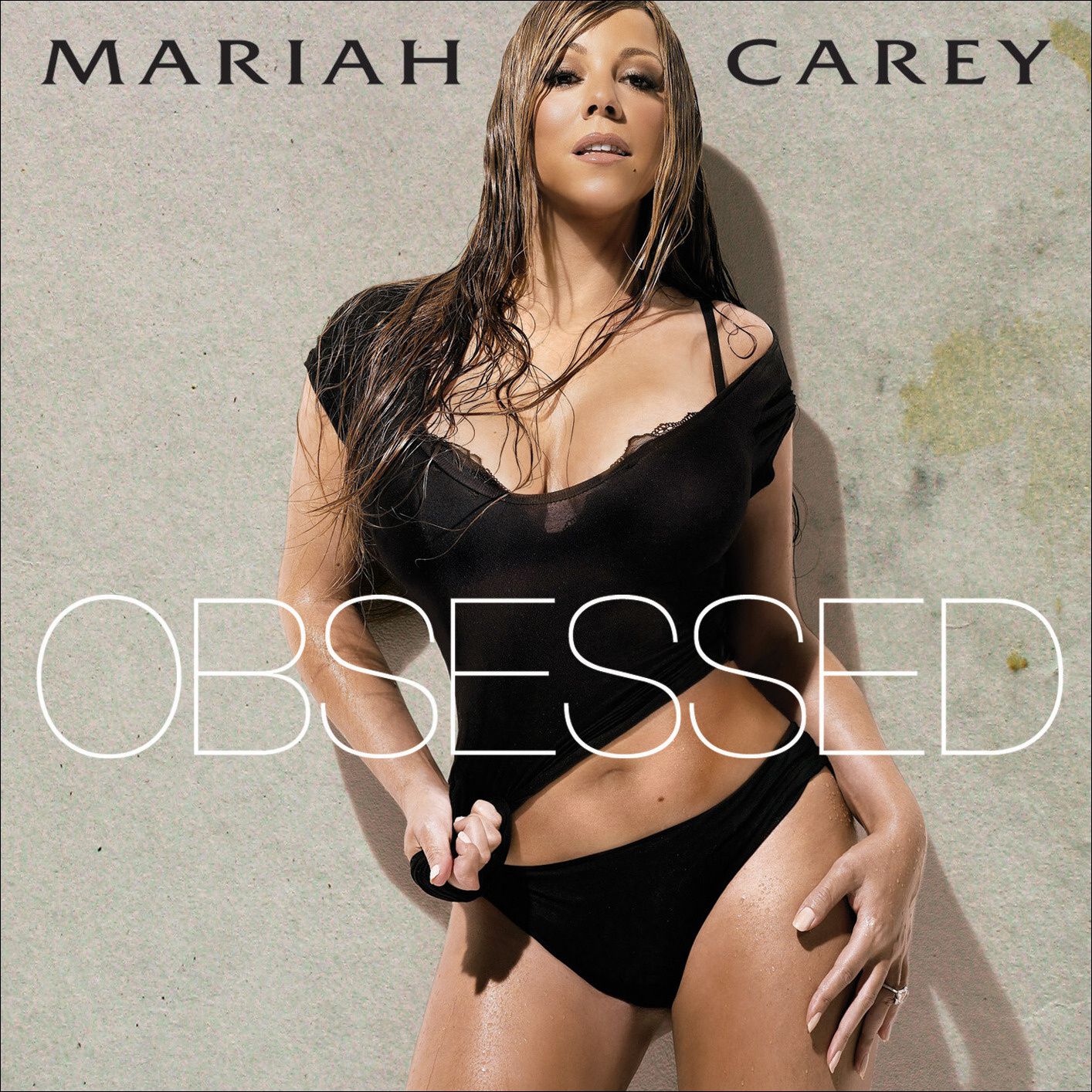 2009, OBSESSED
Paroles et musique: Mariah Carey, Terius Nash, Christopher Stewart
Production: Mariah Carey, C. 'Tricky' Stewart, Terius 'The Dream' Nash
I was like:
Je me demandais:
'Why are you so obsessed with me?'
'Pourquoi es-tu autant obsésé par moi?'
So, oh, oh oh oh... (x8)
So, oh, oh oh oh... (x8)
[Rap:]
Will the real MC, please
Est-ce que la vraie MC, s'il vous plaît
Step to the mic
Pourrait avancer vers le micro
MC, MC
MC, MC
We need a MC
On a besoin d'une MC
Place to be
C'est ici qu'il faut être
[Mariah:]
Oh, oh, oh, oh
Oh, oh, oh, oh
All up in the blogs sayin'
Partout sur les blogs
We met at the bar
Tu dis qu'on s'est rencontré au bar
When I don't even, know who you are
Alors que je ne sais même pas qui tu es
Sayin' we up in your house
Tu dis qu'on est chez toi
Sayin' I'm up in your car
Tu dis que je suis dans ta voiture
But you're in LA and I'm out at Jermaine's
Mais tu es à L.A. et je suis chez Jermaine
I'm up in the A, you so so lame
Je suis à A. (Atlanta), tu n'es vraiment pas crédible
And no one here even mentions your name
Et personne ici ne mentionne même ton nom
It must be the weed, it must be the E
Ce doit être l'herbe, ce doit être l'E. (Exta)
'Cause you be poppin'
Parce que tu fumes
Heard you get it poppin'
Tu m'as entendu, tu halluccines
[REFRAIN 1:]
Oh ouh woh oh oh
Oh ouh woh oh oh
Why you so obsessed with me?
Pourquoi es-tu autant obsédé par moi?
Boy I wanna know
Mec je veux savoir
Lyin' that you're sexin' me
Pourquoi tu mens en racontant que tu couches avec moi?
When everybody knows
Alors que tout le monde sait
It's clear that you're upset with me
Que c'est clair que tu as un problème avec moi
Oh, oh, oh
Oh, oh, oh
Finally found a girl
Tu as finalement trouvé une fille
That you couldn't impress
Que tu ne pouvais pas impressionner
Last man on the earth
Même si tu étais le dernier homme sur terre
Still couldn't get this
Je ne comprendrais toujours pas ça
[REFRAIN 2:]
You're delusional, you're delusional
Tu te fais des illusions, tu te fais des illusions
Boy you're losin' your mind
Mec tu perds la tête
It's confusing yo, you're confused ya know
ça te perturbe, tu es perturbé tu sais
Why you wastin' your time?
Pourquoi tu perds ton temps?
Got you all fired up
J'ai réveillé
With your Napoleon complex
Ton complexe de Napoléon
See right through you
Je vois à travers toi
Like you're bathin' in Windex
Comme si tu baignais dans le Windex (produit à vitre)
Oh oh, oh oh, oh oh
Oh oh, oh oh, oh oh
Boy why you so obsessed with me?
Mec pourquoi es-tu autant obsédé par moi?
So, oh, oh oh oh... (x4)
So, oh, oh oh oh... (x4)
Oh oh oh
Oh oh oh
And all my ladies say
Et toutes mes ladies disent
And all my girls say
Et toutes mes copines disent
Uh-uh-uh-uh-uh-uh-uh-uh-uh, Obsessed... (x4)
Uh-uh-uh-uh-uh-uh-uh-uh-uh, Obsédé... (x4)
You're on your job, you're hatin' hard
Tu fais ton taf, tu répands ta haine
Ain't gon' feed ya, I'mma let ya starve
Je ne vais pas la nourrir, je vais te laisser crever de faim
Gaspin' for air, I'm ventilation
Tu as besoin d'air, je suis une vraie ventilation
You're out of breath
Tu es à bout de souffle
Hope you ain't waitin'
J'espère que tu n'attends rien
Tellin' the world how much you miss me
Tu dis au monde combien je te manque
But we never were so why you trippin'
Mais nous n'avons jamais été ensemble alors pourquoi tu tripes?
You're a mom and pop, I'm a corporation
Tu es une entreprise familiale, le suis une corporation
I'm the press conference
Je suis la conférence de presse
You're a conversation
Tu es une conversation
[REFRAIN 1]
[REFRAIN 2]
So, oh, oh oh oh... (x4)
So, oh, oh oh oh... (x4)
Oh oh oh
Oh oh oh
And all my ladies say
Et toutes mes ladies disent
And all my girls say
Et toutes mes copines disent
Uh-uh-uh-uh-uh-uh-uh-uh-uh, Obsessed... (x4)
Uh-uh-uh-uh-uh-uh-uh-uh-uh, Obsédé... (x4)
[REFRAIN 1...]
Hey
Hé!
He's all up in my George Foreman
Il ne me lâche pas la grappe
Lyin' that you're sexin' Mimi
Tu mens en racontant que tu as couché avec Mimi
Oh!
Oh!
Oh, oh, oh
Oh, oh, oh
Finally found a girl
Tu as finalement trouvé une fille
That you couldn't impress
Que tu ne pouvais pas impressionner
Last man on the earth
Même si tu étais le dernier homme sur terre
Still couldn't get this
Je ne comprendrais toujours pas ça
No-oo-oo
No-oo-oo
[REFRAIN 2...]
(High Note)
(High Note)
He's all up in my George Foreman
Il ne me lâche pas la grappe
But I can't do nothing for him
Mais je ne peux rien faire pour lui
You love me, you love me
Tu m'aimes, tu m'aimes
You really, really love me
Tu m'aimes, tu m'aimes vraiment
(High notes)
(High notes)