2001, If We
Featuring Nate Dogg & Ja Rule
Ce titre est un peu déroutant puisqu'il met en avant Nate Dogg et Ja Rule sur les couplets tandis que Mariah ne chante que les refrains. Cela nous rappelle seulement que "Glitter" n'est pas complètement un album de Mariah mais surtout la BO d'un film et que cela l'autorise à mettre en avant d'autres artistes. Ce morceau est celui qui poussera Tommy Mottola à inciter Jennifer Lopez à collaborer avec Ja Rule pour concurrencer Mariah.
Nate Dogg et Mariah ont enregistré une autre version de cette chanson avec Damizza et Shade Sheist intitulée 'What Would You Do'.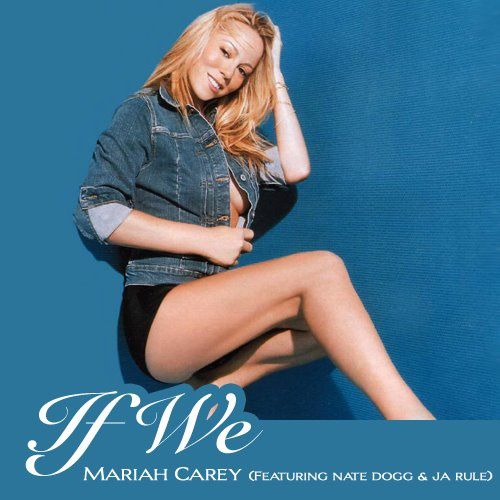 2001, IF WE featuring Nate Dogg & Ja Rule
Paroles et musique : Mariah Carey, Damion Young, Jeffrey Atkins, H.Hersh, Nathaniel Hale
Production : Damizza, Mariah Carey
Arrangements : Mariah Carey
[Mariah/(Ja Rule)]
I never thought
Je n'aurais jamais cru
(Who would've thought baby)
(Qui l'aurait cru baby)
That I'd be
Que je me retrouverais
(Missin' you baby)
(Tu me manques baby)
Without you
Sans toi
(I need you baby)
(J'ai besoin de toi baby)
Why me ?
Pourquoi moi ?
(Why me?)
(Pourquoi moi ?)
x2
[Ja Rule]
Love what your body next to me
J'aime ton corps près de moi
On me actually
Sur moi en fait
Off that extasy
Finit cette extase
Reminiscin' how we used to smoke and freak
Je me souviens comme nous nous essoufflions, faisions des folies
F* and fall asleep
B*sions et nous nous endormions
Lockin' for a week
Enfermés toute une semaine
Now we barely even talk and walk the block
Maintenant c'est à peine si on se parle ou si on traîne ensemble
Kiss and cuddle up
Si on s'embrasse ou si on se câline
Girl we losin' touch
Ma belle on perd le contact
What's a man to do but go crazy babe?
Qu'est-ce qu'un homme peut faire à part devenir dingue baby ?
I know you mad but you don't really hate me babe
Je sais que tu es en colère mais tu ne me déteste pas vraiment baby
It's deeper than that, now
C'est plus profond que ça, alors
[REFRAIN, Mariah]
Baby if we got together again
baby si on se remettait ensemble
Sugar I will be your very best friend
Mon sucre je serais ta meilleure amie
I would love you unconditionally
Je t'aimerais sans condition
You'll never wanna let me go baby
Tu ne voudras plus jamais me laisser partir baby
I promise I will be by your side
Je promets que je serai à tes côtés
Give you everything you need to get by
Je te donnerai tout ce dont tu as besoin
Then my broken heart will finally mend
Alors mon coeur brisé sera enfin réparé
Baby if we got together again
Baby si on se remettait ensemble
[Nate]
Sometimes I close my eyes and just pretend
Parfois je ferme les yeux et j'imagine
What if I had a chance to do it all again?
Et si j'avais la chance de tout recommencer ?
Sometimes for happiness we hessitate
Parfois on hésite devant le bonheur
Just like the game, I need the love, won't wait
Tout comme la séduction, je veux l'amour, je ne peux pas attendre
And if I had another best friend
Et si j'avais une nouvelle meilleure amie
What if I had someone on whom I could depend?
Et si j'avais quelqu'un sur qui je puisse compter ?
Someone who makes me feel like you used to
Quelqu'un qui me fasse ressentir la même chose que toi
Tell me baby, what would you do?
Dis-moi baby, qu'est-ce que tu ferais ?
[REFRAIN x2]
[Ja Rule]
Why would you wanna go through the pain?
Pourquoi voudrais-tu t'infliger ça ?
The love of another man
L'amour d'un autre homme
The truth is nobody can love you like I can
La vérité c'est que personne ne peut t'aimer comme moi
It's a damn shame
C'est une honte
We can't get along
Qu'on ne puisse pas s'entendre
We used to get it on, where did it all go wrong?
Avant on y arrivait, qu'est-ce qu'il s'est passé ?
I admit, the flesh is weak
Je le reconnais, la chair est faible
But the game is strong
Mais la séduction est forte
You go my way, your way baby, we're movin' on
Tu vas dans mon sens, puis dans le tiens, et on passe à autre chose
It's true, gon' miss you
C'est vrai, tu vas me manquer
Who would've thought
Qui aurait cru
I'd be without you?
Que je me retrouverais sans toi ?
[Mariah/(Ja Rule)]
I'd never thought
Je n'aurais jamais cru
(Baby there's nothin' to lose)
(Baby on a plus rien à perdre)
That I'd be
Que je me retrouverais
(You know my soul's so cold)
(Tu sais mon âme a si froid)
Without you
Sans toi
(And my love is pain)
(Et mon amour n'est que douleur)
Why me, why me ?
Pourquoi moi, pourquoi moi ?
(Spit it one more time)
(Dis-le encore une fois)
I never thought
Je n'aurais jamais cru
(My baby)
(Mon amour)
That I'd be
Que je me retrouverais
(Pride and joy)
(Ma fierté, ma joie)
Without you
Sans toi
(I'ma make you mine)
(Je vais te faire mienne)
Why me
Pourquoi moi
(Without Rule)
(Sans Rule)
REFRAIN…
If we, if we, if we…
Et si, et si, et si…