2009, H.A.T.E.U.
Mariah explique que 'H.A.T.E.U.' (te détester) signifie aussi 'Having A Typical Emotional Upset', ou 'avoir une contrariété émotionnelle typique'.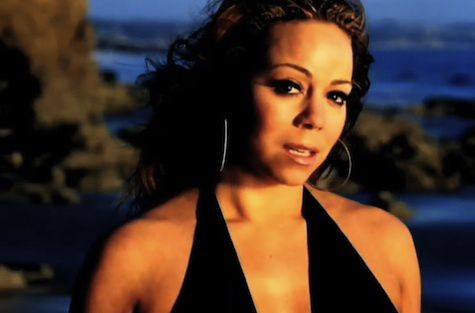 2009, H.A.T.E.U.
Paroles et musique: Mariah Carey, Terius Nash, Christopher Stewart
Production: Mariah Carey, C. 'Tricky' Stewart, Terius 'The Dream' Nash
(Ad Libs...)
(Ad Libs...)
Once upon a time we swore not to say goodbye
Il était une fois nous nous sommes promis de ne jamais nous dire au revoir
Something got a hold of us and we changed
Quelque chose s'est emparé de nous et nous avons changé
And then you sat alone in pride and I sat at home and cried
Alors tu t'es assis seul dans ton coin par fierté et je suis allé m'asseoir à la maison et j'ai pleuré
How did our fairy tale just end up this way
Comment notre conte de fée a-t-il pu se terminer comme ça?
[REFRAIN 1:]
We went round for round till we knocked love out
Nous avons tourné en rond jusqu'à ce que nous mettions l'amour dehors
We were laying in the ring not making a sound
Nous étions étendus sur le ring sans émettre un son
And if that's a metaphor of you and I
Et si ceci est une métaphore de ce que nous étions toi et moi
Why is it so hard to say goodbye
Pourquoi est-ce si dur de dire au revoir?
[REFRAIN 2:]
I can't wait to hate you make you pain like I do
J'ai hâte de te détester, te faire mal comme j'ai mal
Still can't shake you off
Je n'arrive toujours pas à me défaire de toi
I can't wait to break through these emotional changes
J'ai hâte de sortir de ces changements émotionnels
Seems like such a lost cause
ça m'a l'air d'être une vraie cause perdue
I can't wait to face you break you down
J'ai hâte de te faire face et de te faire tomber
So low there's no place left to go
Plus bas que terre
I can't wait to hate you
J'ai hâte de te détester
(High Notes)
(High Notes)
Ooh this was a love phenomenon no one could explain
Ooh c'était un phénomène amoureux que personne ne pouvait expliquer
And I wish I could press reset and feel that feeling again
Et j'aimerais pouvoir appuyer sur reset et ressentir ça à nouveau
I sit and press rewind and watch us every night
Je m'assois, j'appuie sur rembobiner et je nous regarde chaque soir
Wanna pause it but I can't make it stay
J'aimerais mettre pause mais je n'arrive pas à l'arrêter
(Just gotta let it play)
(Je n'ai plus qu'à le laisser défiler)
[REFRAIN 1]
[REFRAIN 2]
No need to call my phone
Pas la peine d'appeller mon téléphone
Because I changed my number today
Parce que j'ai changé de numéro aujourd'hui
Matter fact I think I'm movin' away (hey hey hey)
Pour dire la vérité je crois que je tourne la page (hé hé hé)
Sorry the frustration's got me feeling a way
Désolé la frustration me faisait me sentir bizarre
And I just keep having one last thing to say
Et je n'ai plus qu'une dernière chose à dire
And I just wanna hold you, touch you,
Je veux te serrer, te toucher,
Feel you, be near you
Te sentir, être près de toi
I miss you baby baby baby
Tu me manques baby baby baby
I'm tired of tryin' to fake through
Je suis fatiguée d'essayer de faire semblant
But there's nothing I can do
Alors qu'il n'y a rien que je puisse faire
Boy I can't wait to hate you
Mec j'ai hâte de te détester
(High Notes)
(High Notes)
[REFRAIN 2]
...Baby
...Baby
I can't wait to H-A-T-E you
J'ai hâte de te D-E-T-E-S-T-E-R
Cause right now I need you
Parce que là maintenant j'ai besoin de toi
Can't wait to make you go
J'ai hâte de te faire partir
(High Note)
(High Note)
I can't wait to H-A-T-E you
J'ai hâte de te D-E-T-E-S-T-E-R
Cause right now I need you
Parce que là maintenant j'ai besoin de toi
Can't wait to make you go
J'ai hâte de te faire partir
(High Note)
(High Note)