2008, I'm That Chick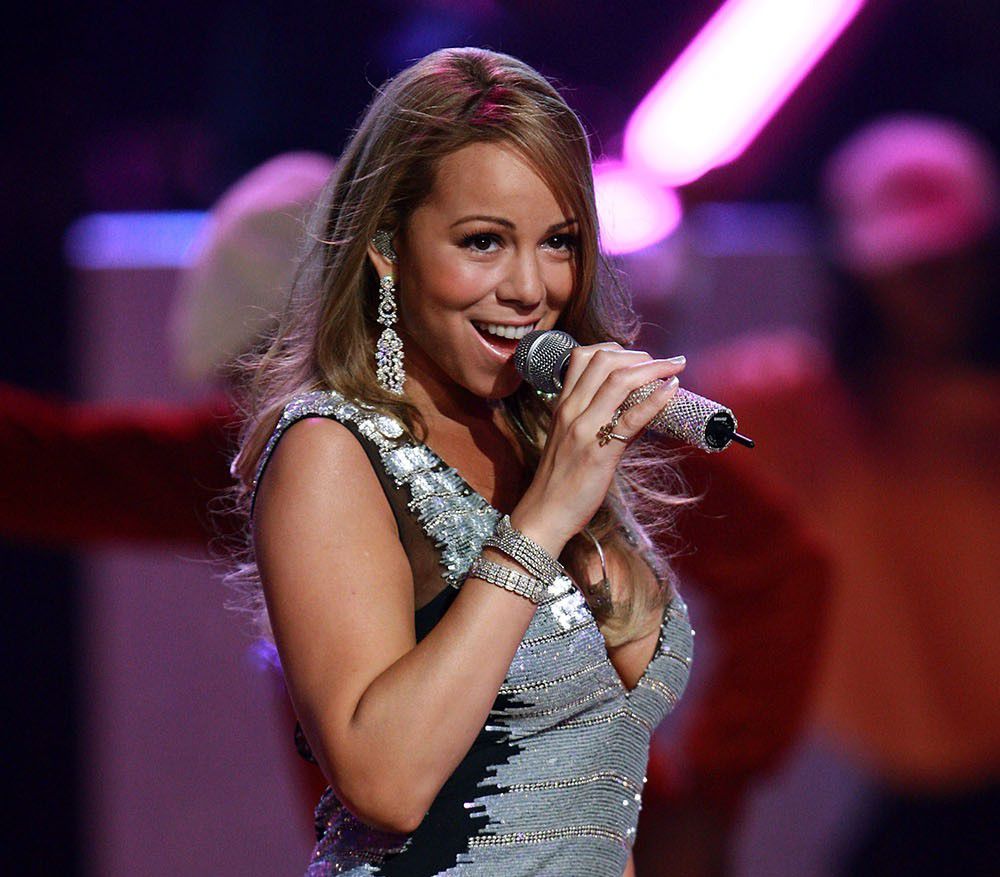 2008, I'M THAT CHICK
Paroles et musique: Mariah Carey, Mikkel Storleer Eriksen & Tor Erik Hermansen (Stargate), Johnta Austin, Rod Temperton
Production: Stargate, Mariah Carey
Contient des paroles de "Off The Wall" de Michael Jackson
Sss oowee oowee
Sss oowee oowee
Oowee oowee
Oowee oowee
Oowee oowee
Oowee oowee
Sss oowee oowee
Sss oowee oowee
Oowee oowee
Oowee oowee
Oowee oowee
Oowee oowee
(Don't) take this seriously
Ne prends pas ça au sérieux
Like pac all eyes on me
Comme dans 'All Eyes On Me' de Tupac
That's right you are intrigued
C'est ça tu es intrigué
I'm that chick you like
Je suis cette poule que t'aimes
You know this what it be
Tu sais ce que ça représente
I'm like the lottery
Je suis comme le gros lot
Hot bentley with the keys
Une super Bentley clés en main
Take me for a ride
Emmène moi faire un tour
In the sky let's fly high
Dans les cieux, planons haut
Boy I got you caught up inside of my haze
Mec je t'ai perdu dans mon brouillard
And you're gonna be gone for days
Et tu vas être parti longtemps
[REFRAIN:]
I'm like that oooweee
Je suis comme ce 'oooweee' (cette bonne came)
You're fiendin' to blaze up
Que tu meurs d'envie d'allumer
And taste me
Et de me gouter
Got flavor like ice cream
J'ai des parfums de glace
Cause I'm that chick you like
Parce que je suis cette nana que tu aimes
And you know you need this man
Et tu sais que tu as besoin de ça mec
And you know I got this man
Et tu sais que j'ai ce qu'il te faut mec
Gonna be your everything
Je serais tout pour toi
I'm that chick you like
Je suis cette nana que tu aimes
La da da oooweee
La da da oooweee
I'm that chick you like (Uh huh)
Je suis cette nana que te aimes (Uh huh)
La da da oooweee
La da da oooweee
I'm that chick you like
Je suis cette nana que tu aimes
I do'z it naturally
Je fais ça naturellement
Hypnotize like biggie
J'"Hypnotise" comme Biggie
But you ain't havin' dreams
Mais tu ne rêves pas
I'm that chick you like
Je suis cette nana que tu aimes
Nah you ain't seeing things
Non tu ne vois pas des choses
Or hallucinating
Tu n'hallucines pas
I brings that levity
J'apporte cette apesanteur
Take me for a ride
Emmène moi faire un tour
In the sky let's fly high
Dans les cieux, planons haut
Boy I got you caught up inside of my haze
Mec je t'ai perdu dans mon brouillard
And you're gonna be gone for days
Et tu vas être parti longtemps
[REFRAIN]
Boy just relax
Mec relaxe
And unwind
Et détend toi
Pull me in and
Inspire moi puis
Breathe, once you do
Respire, une fois que c'est fait
There ain't no rules it's up to you
Il n'y a plus de règle, c'est toi qui décides
Ain't no rules it's time
Il n'y a plus de règle, il est temps
Just keep on kissin' me
Ne t'arrête plus de m'embrasser
Hold on and baby we
Tiens bon baby, nous
Can party all night through the night
Pouvons faire la fête toute la nuit, tout au long de la nuit
All right
C'est ça
[REFRAIN...]
Got flavor like ice cream
J'ai des parfums de glace
Cause I'm
Parce que je suis
And you know you need this man
Et tu sais que tu as besoin de ça mec
And you know I got this man
Et tu sais que j'ai ce qu'il te faut mec
Gonna be your hey
Je serais ton hé
Your everything you like
Tout ce que tu aimes
Hey! I'm! Like!
Hé! Je suis! Comme!
That oooweee
Ce 'oooweee' (Cette bonne came)
I'm like that uptown haze
Je suis ce brouillard des banlieues
Them real thugs blaze
Que les big boss allument
We'll touch the sky
Nous toucherons le ciel
Cause I'm that chick you like
Parce que je suis cette poule que t'aimes
Uh huh...
Uh huh...